"This generation of Island Spas embraces the handcrafted artistry and performance innovation that has defined Artesian Spas for the past decade. The expert craftsmanship and stunning design are not the only compelling aspects of the Island Spa. This spa line is built to deliver robust massage therapy. Ranging from 33 to 75 with options such as the Cascade water feature or the dynamic DynaBrite™ LED light system, each Island Spa can be a one-of-a-kind, personalized retreat." - Artesian Spas
After a long day, engulf your aching muscles in the ultimate hydrotherapy of the Santa Cruz. The strategically placed jets in this lounger spa massage and loosen tense muscles, from the neck and back to the legs and feet. In addition, the versatile size of the Santa Cruz makes it a perfect fit for a small patio or deck, or even indoors.

No one has to tell you how important it is to find time for yourself. Send your stress and worries away as you relax in your own personal lounger, or enjoy the open seating with friends or family, in the adaptable Nevis. This spa has big features but will fit indoors or out, in small spaces or larger areas.


Hydrotherapy has been shown to revitalize body and mind, help heal injured tissue, and relieve aches and pains. You can enjoy the end of every workout in your Antigua spa, as the hot water and massaging Helix jets soothe strained muscles and rebuild tissue, even after a particularly strenuous session. This spa provides your own personal lounger, along with seating for family and friends.

It's easy to get lost in the moment as you unwind to the sounds of the circulating water and relax with the powerful massage of the Helix jets. The Captiva is the ideal spa for reconnecting with family and friends. This spa has six seats that offer a variety of jet configurations for every taste.
Trade in the TV, video games and other distractions of the living room and enjoy the outdoors with your family every season of the year. Melt away muscle tension with a powerful massage provided by the personal lounger. With lounge seating and five different massage configurations, this spa is perfect for a family looking for a retreat without traveling farther than the backyard.
The Grand Cayman has multiple jet arrangements and open barrier seating, this Island spa is designed for you and your guests to enjoy together. The six seats allows individuals to elevate their feet and get not only a back massage, but side muscles, arms and feet as well.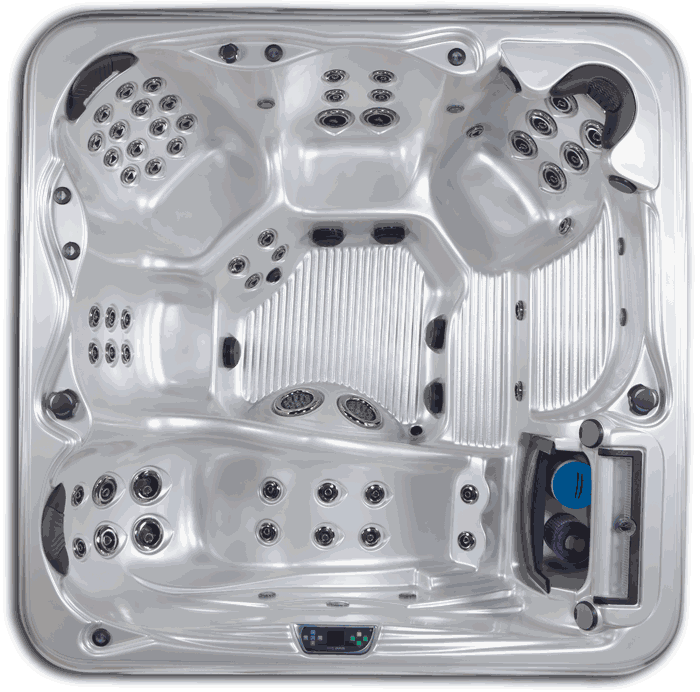 Barbados embraces the handcrafted artistry and performance innovation that has defined Artesian Spas for the past decade. This unique double lounger is designed so those lounging can face one another with superb comfortability as they escape into the bliss of Barbados.
It's believed, in times past, that visitors would travel from all over the world to experience the healing qualities of the Babadian sand. Of course today, there's no need to go further than your backyard.

You will find that fun family time and entertainment are easy to come by with the Bimini. Designed for families and entertaining guests, you will have no trouble getting everyone together to enjoy this massive spa. Equipped with six massage seats, two personal loungers, and a cool down seat, the Bimini provides multiple choices for hydrotherapy.